How interesting that Jenny Matlock would provide the prompt,
"I finally understood the phrase, "A deer in the headlights"
for her weekly challenge, what with our
Curious Case of the Deer in the Night
, that we experienced this week! But I won't bring that up again!
To participate in Jenny's challenge we must use the 10 words of her prompt, with no more than 100 other words in our response. Oh... and no splitting of the prompt. Well.... I might be using a bit of artistic license, but here goes:
First a bit of background: Our son is graduating from college in just over two weeks. He has had a tough semester, but he is glowing in the knowing that the pressure he has been under will let up. But as he looks toward the future, I see him grapple with choices. I see him trying to decide between finding a job in his field, or starting a business venture. This is 'my baby' caught in this dilemma, and as I observed his inner struggle,
I finally understood the phrase,
Doesn't know which way to leap;
Should she stay where she is?
Or is it the easy road you take?
Or live life predictably, safely,
Instead of safety, this time.
But, no, that's not true,
For nearly a century gone by,
Proposed we take the road less travelled by.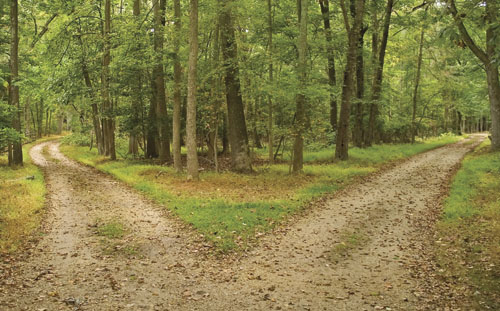 Visit Jenny's site to see the responses from other bloggers.