We had to remove a tree in our front yard to allow equipment to have access to our back yard to construct our pool and lanai. The tree we removed was called an Orchid tree. It has beautiful, pink orchid-like flowers throughout most of the year. It is a messy tree. It drops leaves and flowers all of the time. It is not truly a native tree. It originated in Asia and escaped from cultivation, so it is occasionally found in the wild in Florida.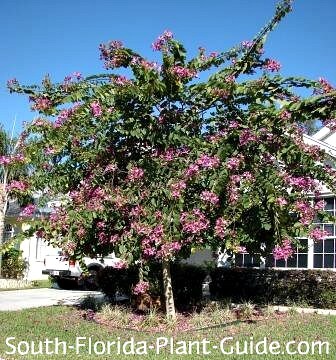 Yeah, it's pretty, but w
e wanted its replacement to be a true Florida native.
We both began reading about native trees. We wanted something with a pleasant shape. We preferred not to have a deciduous tree. We did not care for a tree that dropped fruit, seeds or leaves.
We read about the Black Olive tree (which doesn't produce olives), also known as the Shady Lady. The South Florida Plant Guide says:
The exquisite Shady Lady black olive tree, with its lush layers of tiny leaves on zigzagged stems, is one of the most beautiful South Florida trees.
With the look of a natural bonsai, this tree lends an Oriental garden appeal when it's young. It grows in layered tiers with a distinct space between each set of horizontal branches. T
he tree matures to form a beautiful, well-shaped rounded crown.
We wanted to see this tree. It sounded like it would be perfect. We asked around, and lo and behold, we actually had one in our back yard already! How embarrassing! However, we had both admired the tree, so it seemed like the perfect replacement.
We arranged with the local landscaper to get a large tree. We awaited its arrival... and watched, in awe, as it arrived and was transported and transplanted.
We love our new tree, and can't wait to see it grow, providing wonderful shade in our yard!