We have a different sort of challenge for today's writing:
Jenny posted, "Your writing challenge is to write a story in fives.
Five sentences consisted of five words EACH.
25 words."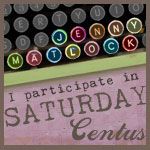 Click on image to visit Jenny's site and read other entries
Five words in each sentence.
I will probably speak in 5-word sentences all day!
She sprinted to the barrel.
Her loose hair swept back.
The wind scrubbed her face.
She moved swift as lightning.
No filly could race faster!